Price and ordering information...

Note: Resources purchased in Ontario are subject to Ontario's 13% HST

How to order:

Place your order simply by eMailing Pete and Sus at
wordworkskingston@gmail.com
. We will correspond to work out shipping costs and other details.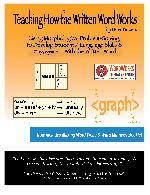 You can pay by PayPal or check.

Teaching How the Written Word Works                                                 $25

Includes "Building Word Webs from the Word Matrix" booklet

(previously sold separately for $15)

70 Word Matrices Disk (Now, only available from Real Spelling!)       $29

This Real Spelling resource complements the our resource book.

It is only available through www.realspelling.fr.

Also look for the excellent Orthographic Phonology disk!