Three-day Intensive WordWorks Course:

Understanding and teaching how the written word works

•Watch the video above from our 2012 course see the beautiful setting of this workshop at the Shanti Yoga Retreat on Wolfe Island, and to see scenes from last years workshop in action.


•Click here for a video on Wolfe Island tourism.









Costs for Course, Accommodation and Food

The course fee is $500 CAD plus 13% tax.


If we confirm 6 participants, the fee for accommodation at the beautiful  Shanti Retreat is  for 3 nights and 4 days is $400 for shared accommodations (2-4 per room) and $500 for private rooms (13% tax). This includes 3 breakfasts. 


NOTE!

The cost of accommodation at Shanti is PER-PERSON. The per person rate is $100 cheaper if you share, but that cost is not shared.




Sus' famous meals: (Prices still to be determined. Get a preview of Sus' meals here!)


Deposit: We need 6 participants confirmed to book at Shanti. Once that is confirmed, we ask for a deposit of the full cost of Shanti accommodations. Every year we have bookings that simply don't show up. The cost of the course itself and Sus' meals can be paid during the course.  Please email Pete to inquire.

Course Content:

The foundation of this course is coming to understand the role of  morphology, phonology and etymology in English spelling. This content is presented while modelling how this content can be addressed in classrooms of all grades. We draw heavily on Real Spelling resources in these sessions, and help teachers become comfortable working with this reference (and many others), for investigating words in the classroom. Thus the two broad strands of our course content are:
Watch the video above of Pete's public lecture on structured word inquiry for University of Alberta's "Weekend with the Experts" series. This provides a good overview of the basic concepts we will study in detail of the three days of the course.
How English Spelling Works:


The concepts, conventions and terms that are needed to develop an understanding of how English spelling works.


How to Investigate and Teach English Spelling in the Classroom:


Practical teaching tools and strategies to help


teachers and students become independent


problem-solvers of how words work.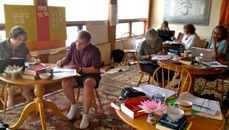 What background is required?

Each year we have had participants of varied background in the same course. Beginners and teachers who've studied with us extensively, or who have a strong background in linguistics can all work together in  same course with excellent results. In fact modelling how this "differentiation of instruction" (with reference to Bruner's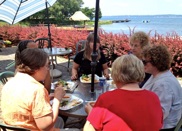 Spiral Curriculum) is one of the explicit topics of discussion. Participants who have had experience working with this content in the classroom bring the benefit of their experience and expertise to the group. Teachers new to this instruction always bring valuable insights to the table as well.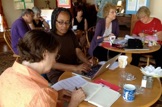 Resources Provided

We provide extensive resources for all our workshops. These include classroom lessons we model during the sessions, reference materials for all the linguistic terms used during our sessions, and numerous teaching ideas/examples. These resources are designed to provide teachers with plenty of material to work with after the workshop is over. We also use this time to help teachers find and use a wide variety of resources including free internet tools, various dictionaries as well as other resources. We make extensive use of Real Spelling resources including tutorial clips from the Real Spelling Tool Box 2, and videos of classroom and tutoring instruction including clips that are not available on-line.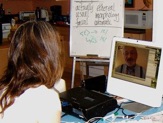 Video conferences with Real Spelling experts

A highlight from our workshops often occur with video conferences with Real Spelling. At left is a shot of Michel teaching Peter, the son of one of our participants, about working with matrices. At right Melvyn is tutoring one of our participants who acted in the role of a Grade 1 student.

It is always a rich learning experience to observe Michel teach, and to be able to take up detailed spelling questions that build up over our course.

Where we are...

The courses take place at our home on Wolfe Island, a 20 minute ferry ride from downtown Kingston, Ontario. Kingston is about halfway between Toronto and Montreal on Lake Ontario, near the mouth of the St. Lawrence River and just north of Syracuse, New York.

Schedule for the three days:

Most of you will be staying at the site of the workshop at the Shanti Retreat. Our schedule also accommodates those from the area who arrive by ferry each day.

Catch 8:30 Ferry from downtown Kingston to arrive at Wolfe Island just before 9 am.

Session 1)   9: 15 – 12:00  (10-15 min break with refreshments provided).

                    Lunch & free individual work and/or play time.

Session 2)   2:00 – 5:00 (10-15 min break with refreshments provided).

Catch the 6 pm ferry to Kingston or stay for Susie's exceptional optional dinner.

Our start time allows for those taking the 20-minute boat from Kingston to arrive and settle into the first session. The two hour lunch break is just enough to recharge, let some of the learning sink in and/or investigate individual questions.

Accommodations

Click here for details on the amazing location we have set up.

Click here for some documents Sus put together with images, descriptions and links to things you can do on Wolfe Island and in Kingston during your visit.

Contact peterbowers1@mac.com to inquire or reserve a spot.